Maine's largest city, Portland, is the perfect day trip when you get tired of lounging on the beach all day. The historic city has received a lot of accolades in the recent years, especially when it comes to food and drinks. Wander the working waterfront where you can watch the hearty lobsterman pull in fresh lobsters, shop the cute boutiques for unique gifts for all your friends, and enjoy a delicious meal at one (or more) of the many award-winning restaurants around town.

Duck Tour
An entertaining, historical adventure of Portland on an amphibious vessel that seats 43 people and terminates in Casco Bay!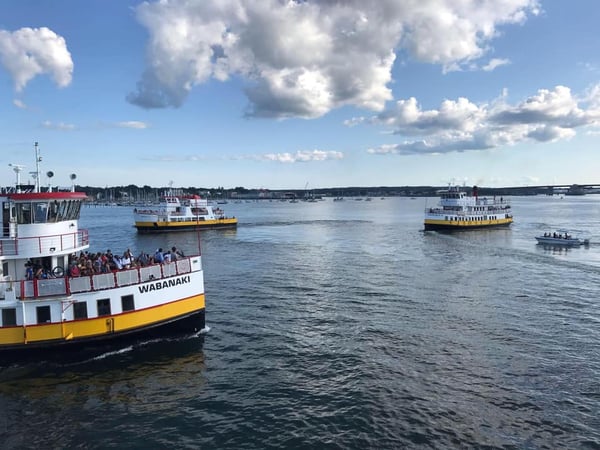 Mail Boat Run
Casco Bay is home to 365 islands, many of which have year-round residents. Hop on the Mail Boat, a true working boat carrying passengers, mail, and freight to islands in Casco Bay. There are daily morning, afternoon, and evening runs with a three-hour duration.
Visit the Old Port
The heart of Portland is its Old Port district filled with neat shops, restaurants, and cafes, and has something of a European feel to it thanks to its many narrow cobbled streets and old brick buildings. Go here to shop and eat at both high-end and casual, local establishments. The Old Port is a great place to take a walk and smell the ocean air. *Take 95N to 295N exit 7 rte 1/Franklin st, right on Fore St.

Portland Museum of Art
The PMA boasts significant holdings of American, European, and contemporary art, as well as iconic works from Maine—highlighting the rich artistic tradition of the state and its artists. The museum brings it all to life with unparalleled programming. From special members-only events, Free School Tours, and a commitment to family activities, to PMA Films, curator talks, and exclusive tours of the Winslow Homer Studio—it's all happening at the PMA.
Maine Foodie Tours
The walking food tour carves a path through the streets of the charming Old Port. Travel to several Old Port venues where you will sample delectable Maine inspired foods and get a behind the scenes look at how your favorite dishes are made! The tours typically run daily from June through October and last 2 to 2.5 hours.
Portland Trolley Tour
Come aboard! At Portland Discovery Tours we treat you like our guest, not just another passenger. Enjoy a full range of amenities, from snacks and drinks to catered meals – all aboard premium trolleys and fully-equipped boats outfitted for maximum comfort and unobstructed views. Six different tours are offered. So, don't forget your camera, and come see the best of Portland with us!